6th Annual 5K Race / 2.5K Walk
Date – Sunday, 6/17/2018 (Father's Day)
Time – 8:00 am
Location – Black Creek Park (Pathfinder Shelter)
Cost – $25.00 ($30.00 Day of Race)
Thanks to all who participated in the 2018 Race!  It was a great morning and such a fun time!  We look forward to seeing you next year!  Thank you for your support!
 ( Deadline to guarantee our awesome tech-fit shirt is 6/8 )

Course Map: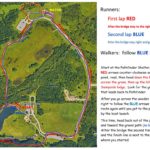 One of Anna's favorite places to visit was Black Creek Park in Chili, New York. Â In fact, this was the last place she visited before we were told that she had relapsed for the second time and her chances of beating the disease were not very high. Â In the back of our minds, we knew there was a possibility we were going to receive that news, so we enjoyed our time, watching Anna play on the equipment and spending time as a complete family, watching the ducks and feeding pieces of bread to the fish, much to the delight and laughter of Anna and Molly.
It is only fitting that this is the site where this event is hosted. Â One of Anna's favorite parts of this park was the 'secret bridge' that is located just into the woods near the pond. Â She was so excited each and every time we went to Black Creek to show us the secret bridge. Â We now refer to this as "Anna's Bridge" and the route will cross this bridge twice.
Once Again – Proud to be a part of the "Kick Cancer 15K Race Series"
We are proud to announce that Anna's Wish will once again be participating in the 15K race series with 13thirty Cancer Connect and Christopher's Challenge.  Throughout the 2018 race season, the three organizations will offer a discounted rate to runners participating in all three races.  The three individual 5K races will create the Kick Cancer 15K Race Series and a special prize will be given to runners completing the series.
You can sign up for each individual race, or get 10% off your total registration fee when you can sign up for all 3 races.  Just select the "Kick Cancer 15K Race Series" when you sign up from the registration page to enter all 3 at once!
New this year!!  Anna's Wish Virtual 5K Race
A perfect solution for those of you who can't make it on June 17th, our new virtual race is a race that can be run (or walked) from any location you choose.  You can run, jog, or walk on the road, on the trail, on the treadmill, at the gym or on the track (or even at another race). You get to run your own race, at your own pace, and time it yourself.  Your race shirt will be shipped directly to you!  Plus, email us at cheryl@annaswish.org with a picture of you running or in your running gear on or before race day, and we can include it with our race day photo album.
To sign up for the virtual race, just choose the "Virtual 5K" selection on the registration page.
 
A HUGE Thank You goes out to all of our Race Sponsors. Â Please support these businesses!
Questions? Â Please contact the race director